Healthy dosa recipe for diabetic patients

Can a diabetic patient eat rice? Can they eat dosa? Perhaps not, but you can make dosas using healthier grains and ingredients. Try this dosa recipe which replaces rice with low glycaemic index carbohydrates ingredients, safe for diabetics.


My father-in-law is diabetic and is placed on a restrictive diet. The man loves to eat and to see him being served food he doesn't relish, makes me feel sorry for him. Rice is off the menu, on the doctor's advice. This means he is deprived of his favorite breakfast items – no dosa and no idli. But, he wants dosa for breakfast and throws quite a tantrum, when he is told he can't have any.


Dosa not good for diabetic patients
If a patient's blood sugar levels are within permissible limits, the nutritionist/dietician might allow one or two dosas for breakfast. But, in most instances, they advise against it, in the best interest of the patient.

Dosas are traditionally made using a combination of rice and urad dal. Rice, as you know, has a very high carbohydrate content, which gets converted into sugar, rather quickly, resulting in a sudden spike in blood sugar levels. High-carb foods are recommended in moderation for diabetic patients because the sugars in them are poison.



Knowing how much the dear man misses his favourite breakfast, I decided to do something about it. I called up a cousin's wife, who is a practising nutritionist and asked for advice on what could be used as a substitute for rice, for making dosa. Though she wasn't sure, if I could make dosas using substitute grains, but she did suggest a few grains, which she said contained safe carbs, with low glycaemic index.

Carbohydrates with a low glycaemic index, are slower to convert into sugar, and thus make for a healthier choice.


Low carb foods
The following were recommended by her -

Armed with a list of new ingredients, I called upon my culinary skills to tweak the traditional dosa recipe, to make a healthier version, of it.


Managing the diabetic diet
A proper diet plan is a key to keeping blood sugar levels low. Apart from insulin injections, what you eat can help control your blood sugar levels. Researchers have identified foods with a high glycaemic index to be responsible for raising blood sugar levels. Hence, healthy diabetes diet plans include foods that have medium to low glycaemic index.

This dosa recipe adheres to the low glycaemic index principle and is, therefore, healthier than the conventional dosa. I made the dosa using low glycaemic index ingredients, namely, quinoa, soy, urad dal, fenugreek and oats.


Health quotient of the ingredients
Quinoa
Quinoa, the main ingredient in this recipe has a low glycaemic index, which makes it healthy for diabetic patients. It is also rich in amino acids, making it a complete protein. The fibre content in the grain is higher than most grains, and this makes it a great food to control diabetes. Fibre, particularly the soluble variety, can slow down the absorption of sugar, thereby improving blood sugar levels.

It contains healthy fats, including saturated fats, monounsaturated fats, polyunsaturated fats, omega 3 and omega 6.

Minerals available in Quinoa:

Manganese
Magnesium
Copper
Folate
Iron
Phosphorous
Zinc
Urad dal
Urad dal is a rich source of vitamins, minerals and proteins. It is particularly rich in potassium iron, calcium, sodium, fibre and polyunsaturated fat.


Oats
Oats have a low glycaemic level and do not significantly alter blood sugar levels in diabetic patients. Oats are also touted as a health food and for good reason. They are a good source of fibre, both soluble in insoluble and are high in minerals, vitamins and antioxidants.

Adding them to your meal plan brings health benefits. 100 grams of oats will provide copious amounts of protein, fibre, saturated fat, monounsaturated fat, omega 6 and traces of omega 3.

Minerals and vitamins in oats:

Zinc
Iron
Manganese
Magnesium
Copper
Selenium
Phosphorous
Vitamin B1
Soy flour
Soy is another wonder food. It can be an excellent addition to a vegan and/or vegetarian diet, to meet the body's protein requirement. Soy flour is also rich in –

Iron
Thiamin
Potassium
Folate
Copper
Fibre
Magnesium
Manganese
Phosphorous
Vitamin A
Choline
Pantothenic Acid
Vitamin K
Fenugreek seeds
Fenugreek seeds lower blood sugar levels and are their intake is recommended for diabetic patients. Diabetic patients are advised to soak fenugreek in water, overnight, and drink the water and chew the seeds, first thing in the morning.

Protein
Calcium
Sodium
Fibre
Manganese
Zinc
Iron
Copper
Potassium
Magnesium
Sodium
Phosphorous
Selenium
Folate
Vitamin B12 & B6
Vitamin C
Riboflavin
Thiamine
Niacin
Vitamin A
Healthy dosa recipe
Ingredients:

1 cup quinoa
1/2 cup oats ground into a fine powder (I used Quaker oats)
1 cup dhuli urad
1 tsp fenugreek seeds
Salt to taste
Oil for frying


Method:

Soak the urad dal and fenugreek seeds for 5-6 hours and grind to a smooth texture
Soak the quinoa in water for about an hour and add to the ground urad dal
Add the oats powder as well and blend the ingredients together to form a homogenous batter of a thick pouring consistency
Transfer the batter from the jar into a larger vessel and set aside for 6-7 hours for it to ferment, just the way you would with regular dosa batter
Use the batter to make dosas, the way you would make regular dosas
Serve with chutney and sambhar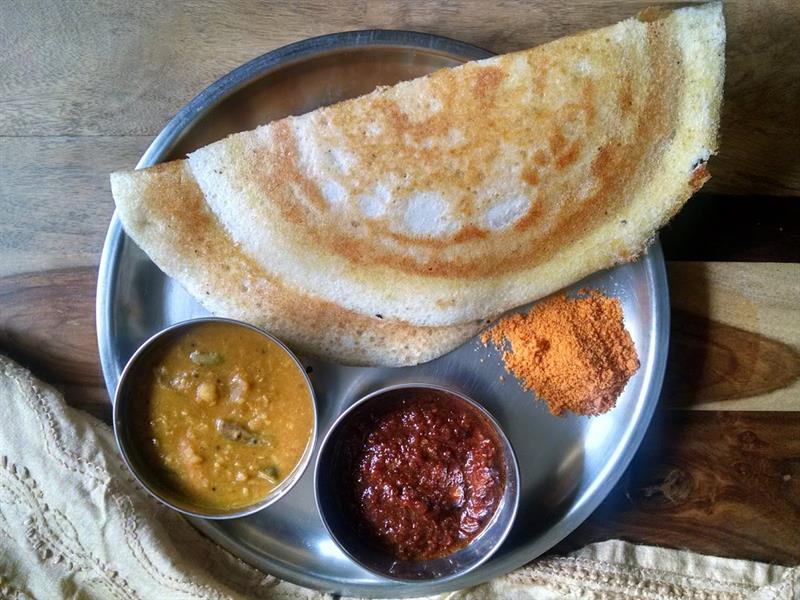 The dosas came out quite nice, as is visible in the image above. This is a healthy dosa for everyone, and especially those diagnosed as being pre-diabetic.




Final words
This dosa is made with healthy ingredients that have a low glycaemic index. The ingredients are also rich in nutrients and provide balanced nutrition, ensuring a good start to your day. Do try this healthy alternative and leave your feedback in the comments section. Also, share your secret healthy recipes that diabetic patients can enjoy, safely.